"A must-read for any working professional: Provides the new formula for finding lasting success in your career." –Dan Schawbel, Bestselling Author, Promote Yourself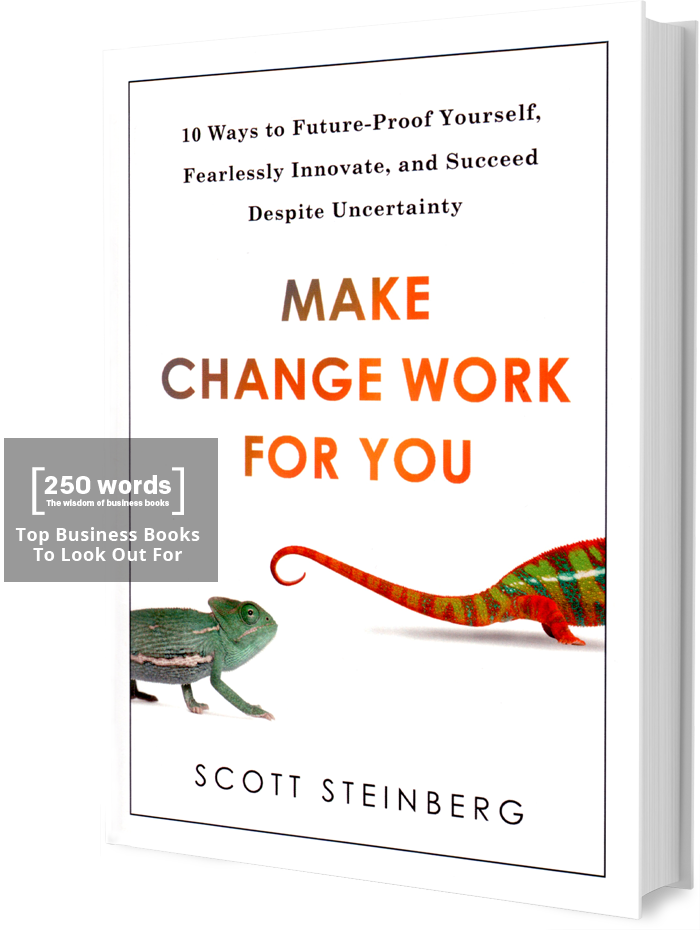 A new blueprint for success in an increasingly uncertain world.
Features:
10 success skills that can ignite your business or career
A revolutionary new system for future-proofing yourself
Proven strategies for unleashing creativity and innovation
The new formula for creating competitive advantage
Richard Bolles
"Provides a one of a kind formula for evolution and growth in an age of constant change…"
– Richard Bolles,
Bestselling Author, What Color is Your Parachute? 2015
Brian Tracy
"This powerful, practical book is loaded with proven strategies to build your self-confidence, become more innovative, and unlock your creativity."
– Brian Tracy,
Bestselling Author, Eat That Frog!
Seth Godin
"Practical, hands-on and powerful, Scott isn't afraid to talk about being afraid and how it keeps us down."
– Seth Godin,
Bestselling Author, The Icarus Deception
Marty Yudkovitz
"Provides a more personal and practical formula for innovation that's just the prescription for executives looking to break through to the next level."
– Marty Yudkovitz,
Former Head of Strategic Innovation, The Walt Disney Company
Adam Grant
"One of the greatest barriers to progress is fear — of failure, rejection, embarrassment, uncertainty, and confrontation. With actionable advice and empowering examples, Make Change Work for You provides the tools we need to succeed in the face of our fears."
– Adam Grant,
Bestselling Author, Give and Take
Gary Shapiro
"A must-read for those who want to survive in our rapidly-changing world. Clear. Concise. Practical!"
– Gary Shapiro,
CEO, Consumer Electronics Association
Kurt Hoppe
"Highly motivating and applicable for both individuals and corporate teams… the book's framework will prove extremely relevant to individual leaders and the business organizations they work within every day."
– Kurt Hoppe,
Head of New Business, LG Electronics
Nolan Bushnell
"Offers powerful new insights into the nature of creativity and personal growth…"
– Nolan Bushnell,
Founder of Atari, and Author, Finding the Next Steve Jobs
Brian Solis
"An eye-opening read that will change the way you look at business…"
– Brian Solis,
Author of, What's the Future of Business
Featured Articles and Resources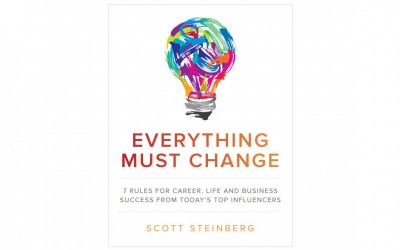 New eBook, EVERYTHING MUST CHANGE,  with a roundup of notable interviews from our #MakingChange series, available for free download (at AKeynoteSpeaker.com/Leadershipguide). What's stopping you from living the life you want to lead or pursuing the career you've always dreamed of? That's the question today's most celebrated business experts ask in, EVERYTHING MUST CHANGE: 7 Rules for Career, Life and Business Success From Today's Top Influencers. In this free eBook training guide, we take another look at some of the the world's most renowned entrepreneurs and online thought leaders featured in our #MakingChange series, who offer simple, practical strategies for finding personal and professional success in record time. Chris Brogan – CEO, Owner Media Group Ann Handley – CEO of MarketingProfs Guy Kawasaki – Chief Evangelist of Canva Dave Kerpen – CEO, Likeable Local Mari Smith – Social Media Thought Leader Brian Solis – Principal Analyst, Altimeter Group Gary Vaynerchuk – CEO of VaynerMedia Inside EVERYTHING MUST CHANGE – new from Scott Steinberg, author of Make Change Work for You: 10  Ways to Future-Proof Yourself, Fearlessly Innovate, and Succeed Despite Uncertainty readers will discover their personal stories and insights, along with hints, tips and strategies that anyone can use to drive ongoing success and achievement. To learn more about or download your free copy of EVERYTHING MUSTCHANGE: 7 Rules For Career, Life and Business Success From Today's Top Influencers, please visit www.AKeynoteSpeaker.com/LeadershipGuide. Read back on the blog for other inspiring interviews with  industry innovators on makechangeworkforyou.com/blog and share your stories of innovation and how you've made change work for you on your socials with #MakingChange....
Free Limited-Time Offer:
Order and Get These 3 Free Bonuses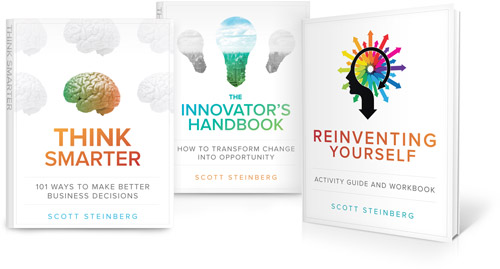 Simply come back to this page and enter your name, email and order number in the following form to download your free gifts.
Consulting & Speaking:
Want to drive positive change and growth in your business? Make Change Work for You author Scott Steinberg delivers high-energy, high-impact keynotes worldwide. Discover why industry leaders rank his presentations among the top talks today – and as smash hits with audiences worldwide.
Scott and the team at TechSavvy Global + Perceptive Research also provide consulting and training for businesses or individuals looking to stay ahead of changing trends.
For more information on speaking or consulting, please visit www.AKeynoteSpeaker.com.
About:
Scott Steinberg is among today's leading business strategists and strategic innovation consultants, as seen in 600+ outlets from CNN to Time and The Wall St. Journal. The CEO of management consulting and market research firm TechSavvy Global, he helps clients create value and cultivate competitive advantage on the back of emerging trends. A top-rated keynote speaker, popular author and futurist, he provides presentations and training workshops at events, meetings and conferences. Among today's most-quoted industry experts, he's been a featured columnist on change and innovation for Fast Company, Rolling Stone and The Huffington Post.